Lifetime
Follow-Up Care
The nose, featured in the front and centre of the face, makes it the most noticeable characteristic by far. When in proportion and well-shaped, it highlights and accentuates the other features. But when out of proportion, it can draw attention away from an individual's beautiful characteristics. Men and women tend to feel self-conscious and insecure about their looks if their nose is oddly or disproportionately shaped.
Rhinoplasty is an excellent option to consider as it reshapes the nose to address any areas of disproportion, thereby creating facial harmony and making it one of the most popular type of cosmetic surgery globally.
In non-surgical or liquid rhinoplasty, temporary fillers are used to correct any contour irregularities or improve the shape. This is performed as an outpatient procedure, requires minimal recovery and delivers immediate results.
Surgical rhinoplasties can be broadly divided into open or closed. The technique selected depends on the complexity and the part of the nose to be addressed.
During an initial consultation, Mr Ridha will take his time to understand the improvements you wish to make to your nose and further examine your nose to assess its function and features. He will then create a personalised treatment plan to address your concerns whilst creating a proportioned nose in harmony with your face.
Preservation Rhinoplasty at a Glance
What is preservation rhinoplasty?
Rhinoplasty, commonly known as a nose job, is a cosmetic procedure that alters the shape of the nose. It is a very popular cosmetic procedure with over 200, 000 rhinoplasties being performed every year. It can be performed for medical reasons, Such as to correct a congenital deformity, traumatic injury, functional issues such as breathing difficulties or aesthetic reasons.
As well as changing the size, shape and angle of the nose, a rhinoplasty can also correct any deviation of the nose and septum.
Rhinoplasty involves surgery on the structures making up the nose.
Traditionally, rhinoplasty was performed by reducing and sometimes removing some of the structures that form the nose.
In preservation rhinoplasty, the structures are manipulated and altered to create the desired shape. This results in minimal disruption to the structure of the nose, ensuring long-term lasting results.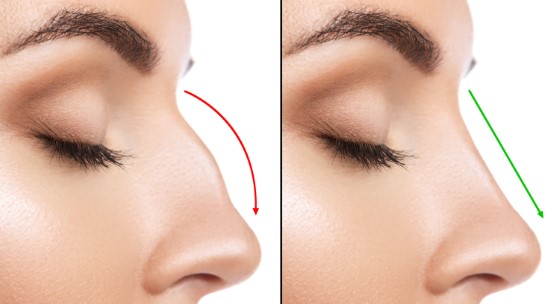 Benefits of preservation rhinoplasty
Rhinoplasty can have a profound and positive effect on your life and is worth considering if you are unhappy with the appearance and/or function of your nose. There are several benefits to having a nose job, including:
Improves the overall appearance of the nose
Corrects functional problems of the nose
Increase or decrease the size of the nose
Give the nostrils a new shape
Reduces the nasal tip
Reduce the bridge
Enhance the balance and harmony between other facial features
Have a positive effect on your overall facial aesthetic
Correct problems associated with a deviated septum
Improve breathing
Improve self-confidence
Risks associated with a nose job
Rhinoplasty is a safe and effective procedure, but like all surgeries, There are risks which you should be aware of if considering such surgery.
These include:
bleeding and bruising
Swelling
Infection
Nasal obstruction and change in sense of smell
Irregularities and asymmetry
Scarring and skin discolouration
Change in skin sensation
Most of these side effects are temporary and resolve on their own during the healing process.
Some complications such as persistent difficulty in breathing through the nose or dissatisfaction with the aesthetic appearance may require a revision rhinoplasty procedure.
The decision to undergo a further procedure needs careful consideration to weigh up the risks and benefits of revision rhinoplasty and is usually performed after the nose has completed healing, normally a minimum of 1-year post initial procedure.
Following all post-operative instructions after rhinoplasty is also very important, as any deviations could interfere with the healing process and the overall results.
How is a rhinoplasty performed?
A rhinoplasty is usually performed under a general anaesthetic as a day-case procedure but sometimes may necessitate an overnight hospital stay.
The procedure is performed either through a closed or an open approach. In a closed approach, the incisions are made on the inside along the nostril rim. In an open rhinoplasty, these 2 incisions are joined through an additional incision along the columellar, the bridge of tissue separating the two nostrils.
The decision on whether an open or closed technique is employed depends on the complexity of the procedure and the specific goals of the particular rhinoplasty.
The nasal bones and cartilage are altered and shaped and if necessary, the septum (the wall between the two sides of the nose) is corrected if it is crooked (deviated) or bent.
Finally, the skin and tissue are repositioned, the incision is closed with stitches and then dressed appropriately.
Recovery time
After rhinoplasty, it is necessary to rest and elevate the head for the first few days. A splint may be placed on your nose to protect it during healing.
There may be some swelling and bruising after the surgery, but this will gradually improve over the next few weeks. However, slight discomfort may be felt, and medication will be prescribed to reduce pain.
Mr Ridha and his team will give specific instructions on how to care for the nose as it heals.
Most people feel ready to return to work and normal activities after one week. However, strenuous activity should be avoided for at least six weeks after surgery.
View some of the results experienced by our rhinoplasty patients.
Do these photos remind you of your case?
You can get similar results or better.
How much does a nose job cost in London?
The cost of a nose job in London is dependent on several factors including its complexity. To help with budgeting and affordability, the below indicators will give you an idea of the costs associated with your considered procedure.
The total cost of the procedure is comprised of a surgical fee, anaesthetic fee, theatre and hospital stay, assistant's fee, and implants/devices.
We offer competitive plastic surgery finance plans. For more information on costs please contact our team, we will be happy to go through the options. The table below illustrates some examples.
| MONTHLY PAYMENT | LOAN TERM | APR | EXAMPLE PRICE |
| --- | --- | --- | --- |
| £205 | 3 Years | 9.9% | £6400 |
| £295 | 2 Years | 9.9% | £6400 |
| £535 | 1 Year | 0% | £6400 |
At HR Plastic Surgery our patients are our number one priority. We aim to understand each patient's unique goals with compassion. Our goal is to offer the best possible service and care to all our patients.
Mr Hyder passionately believes that plastic surgery should both rejuvenate and create aesthetic harmony. To book a consultation with us please call us on 020 3907 6830, email us at info@hrplasticsurgery.com, or book online via our website.
Meet Mr Ridha
Consultant Plastic, Reconstructive and Aesthetic Surgeon
Mr Hyder Ridha is a Consultant, Plastic, Reconstructive and Aesthetic Surgeon who read medicine at the prestigious Royal Free and University College London Medical School. He graduated with distinction (MB BS) in 2003 and also holds a Bachelor of Science degree in Anatomy and Developmental Biology (First-class Honours).
Mr Ridha is a highly skilled and experienced rhinoplasty surgeon specialising in preservation rhinoplasty techniques.
We are conveniently located in four hospitals throughout London. Find us here:
Hatfield Avenue,
Hatfield Business Park,
Hatfield AL10 9UA
One Medical House,
Boundary Way,
Hemel Hempstead HP2 7YU
Benslow Lane,
Hitchin SG4 9QZ
Ambrose Lane,
Harpenden AL5 4BP
If you still have some questions, below you can find our most frequently asked questions regarding our rhinoplasty procedure:
This article is not intended to be used for diagnosis or treatment. It is aimed at presenting a perspective only and is not a substitute for a clinical assessment. Anyone experiencing a medical condition should consult their doctor.
How to schedule a consultation
To book an appointment with Mr Ridha, please call us on 020 3907 6830, email us at info@hrplasticsurgery.com, or book online via the form below.